The Local Choice Food Box


is a collaboration of small-scale Washington farmers and conscientious consumers who work together to grow and eat the choicest fresh, locally grown, chemical-free food.
Choice

+

Local

+ 

Sustainable

=

Delicious

!
Become Part of our Family and Enjoy Being a Member
in the Highest Rated CSA in the Land!
If you live in King, Snohomish, Whatcom, or Skagit Counties and like the idea of supporting dozens of Washington farmers with a single purchase this is the CSA for you.  
If you enjoy eating the best that sustainable farmers in our state have to offer, and getting to choose exactly what you eat, then our CSA is DEFINITELY a perfect fit.  
When it comes to customer satisfaction, our CSA is second to none, and this year we are excited to offer the same great CSA program our members have come to expect, along with some awesome new additions.
We are excited to give our members more choices, more box options, more pick-up locations, and more great food from our growing family of local farms. Our Local Choice Food Box members enjoy the ability to choose every single item that goes into their boxes from a great variety of Washington-based farms, and every dollar goes straight to local growers.
In addition, your membership directly supports our efforts in the fields and in the community to help grow a new generation of farmers capable of feeding the world. There is simply no better way to eat well and support local farmers than to be a member of our CSA.  
Welcome!
 What our members have to say:
"I am the envy of my neighborhood.  It is that simple.  This is THE CSA of CSAs."
"This CSA has changed the way I eat, changed the way I think about food, and increased my appreciation for just how good real food can taste."

"Getting to choose local, in-season food each week from hundreds of locally grown, impeccably chosen products is more than any consumer could wish for, but that is what Growing Washington delivers!" 

"These guys and girls really understand what excellent customer service means. The produce quality has been great and I love the variety of produce available."

"Great organization; excellent produce. I get to pick my veggies online and pick them up just two blocks from my house."

"The farmers are very friendly and informative, and the produce is spectacular."

"Best money I have ever spent."

"Consistently delicious!"

"The personal touch made all the difference."
Welcome to the


Local Choice Food Box
Season Starts Mid June, 2015



----- or-----
 

MANAGE YOUR ACCOUNT, 
CHOOSE LOCAL CHOICE ITEMS
-------  or   -------
BROWSE & SHOP THE
GROWING WASHINGTON
PURCHASE ITEMS DIRECTLY!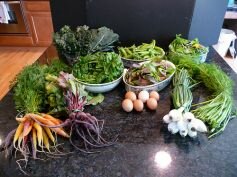 Food Box customer James Lupori put together a beautiful slide show of the veggies he received last season. Click on the photo to see what a summer's worth of local, organic vegetables from the Local Choice Food Box looks like!
Join The Highest Rated CSA in the Land!
Google Reviews
Rated 4.9 out of 5 stars.
Not bad, but we're working on it.
Yelp Five Star Rating for Customer Satisfaction
Hot Potatoes!  Our CSA has the highest ranking for customer satisfaction!
A Sample First Local Choice Box:
Sugar Snap Peas
Sweet Carrots
Savoy Spinach
Broccoli
Strawberries
Head Lettuce
Spicy Salad Mix
Beets
Spring Onions
French Breakfast Radishes

View Partial Crop List